LIVE 2017 NFL Draft Grades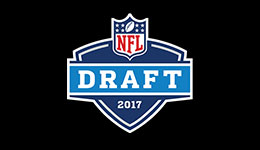 SportsRoutes will be giving live draft grades throughout the NFL draft.
1.Cleveland Browns- DE Myles Garrett Texas A&M
Myles Garrett offers a unique combination of a high football IQ along with ultra-athleticism. Cleveland has not only selected the top player in this years draft, but they have also selected the top defensive player since Jadeveon Clowney in 2014.
Grade: A+
2. Chicago Bears (from the San Francisco 49ers)- QB Mitch Trubisky
What started off as a shocking trade, turned into a shocking selection. John Fox has been known to gamble with quarterbacks, and this is just another gamble at the position. With no true number one wideout or tight end, his only weapon is realistically  running back Jordan Howard. It is hard to assume that Trubisky will start or even produce his rookie season.
GRADE: C
3.San Francisco 49ers ( from the Chicago Bears)- DT Solomon Thomas
The 49ers have made their front three even scarier. The pairing of two former first rounders in Armistead and Buckner, with the top defensive tackle in the draft. The sheer athletic ability of Thomas will allow San Francisco to chase after Seahawks Quarterback Russell Wilson, and make the NFC West wary of this defensive front.
Grade: A+
4.Jacksonville Jaguars- RB Leonard Fournette LSU
The Jaguars have gone out and gotten the top running back in the draft. Not only will he block for QB Blake Bortles, but he will also be the lead back. He will open the field up for Bortles and the Allen Twins in play action and will dominate on the goal line. Jacksonville adds a shiny new toy who is primed for success if he stays healthy, an his offensive line provides him with good support.
Grade: B+
5.Tennessee Titans- WR Corey Davis WMU
The Western Michigan product was an absolute monster in his college career. We haven't seen someone produce numbers like this. Mariota also gets a potential weapon that can turn into an All-Pro under Mariota's lead. Not everything is perfect though as he dealt with injuries through his college career which is something to look out for.
Grade:B
6.New York Jets- DB Jamal Adams LSU
New York gave up a lot of passing yards in 2016, and they let go of future Hall-of-Famer Darrelle Revis so this pick makes sense. Adams is a player who can play in the box and in the back field like Bowles former safety Tyrann Mathieu. A sensational pick from a depleted franchise.
Grade:A
7.Los Angeles Chargers- WR Mike Williams Clemson
This pack is no surprise. While there were many guessing that this would be Malik Hooker- including myself, he has the talent to perform at the elite level. He has the power, speed, and catch radius. Definitely one of the biggest threats in the red-zone and someone you don't expect on the deep throw. This man has heart, Philip Rivers has a new weapon who definitely has the ability to create a more competitive AFC West
Grade: B+
8.Carolina Panthers- RB Christian McCaffrey Stanford  
A dynamic playmaking all purpose back who can also play in the slot. Carolina selects not only their pass catching back of 2017, but also their future starting running back with Jonathan Stewart on his way out. McCaffrey will produce immediately for the Panthers wherever they line him up  This kid has the athleticism of some of the greatest backs, immediate production the second he gets to training camp.
Grade:A-
9.Cincinnati Bengals- WR John Ross III Washington
What can be considered an unexpected pick, this actually blends quite well with the Bengals' scheme. The Bengals scheme runs on fast paced players, and this is obviously what they get from John Ross. After a stagnating offense in Cincinnati, the addition of Ross allows for more plays to open up. Not only will he shine on offense, his kick returning and punt returning allows him to prove his extreme versatility and speed. The Bengals get the NFL's version of the Flash, and can perform at a high level.
Grade: B-
10.Kansas City Chiefs (From Buffalo Bills)- QB Patrick Mahomes II Texas Tech
A raw talent who has only scratched the surface of his potential. He will have time develop behind QB Alex Smith and will be able to play in Reid's stretch offense.With his powerful arm he will be looking deep. Kansas City has WR Tyreek Hill who is a deep threat on every play. Mahomes definitely has the talent, but to solidify a solid NFL career he needs to contain himself inside the pocket. Overall, this pick was for the long term, but has potential to develop.
Grade:B
11.New Orleans Saints- DB Marshon Lattimore OSU
The Saints are always in need of defense. New Orleans was 32nd in yards allowed, and with this pick, they will be able to protect the home turf and attack their NFC South opponents. Lattimore's fall all the way to 11th was quite a surprise. His ball skills and coverage are truly gifted. Aggressive guy who has potential to wreck some of the top wideouts in the NFC South. Only issue may be his injuries and lack of effort, but if he is played right and finds a true passion for football, we can see him being on of the best DBs.
Grade: A
12.Houston Texans (from Cleveland Browns)- QB Deshaun Watson Clemson
This draft has just been all over the place. Mock drafts destroyed, and some of the top NFL analysts are in awe. This pick allows the Texans to develop a quarterback who has proven himself in college. The addition of Deshaun Watson has created a team that has potential to make a mark in the playoffs. The AFC South is brewing with young quarterbacks, and with Watson's sheer athletic ability and leadership skills define what will happen in the next couple of years in the AFC South.
Grade:A
13.Arizona Cardinals- LB Haason Reddick Temple
Reddick came onto the scene during the combine leading or posting top five numbers for linebackers. Bruce Arians will use him all over the field, in blitz packages and dropping back in coverage. Arizona selects their OLB of the future and could move Buchanan back to safety.
Grade: B
14.Philadelphia Eagles- DE Derek Barnett Tennessee
A stud from Tennessee, Barnett will give it his all, day in and day out. Barnett participated in the combine despite having the flu. Whenever you surpass Reggie White in any football stat, you're  a talented player. Even though the Eagles signed Chris Long and have Vinny Curry, they add a player with great intangibles to go with his physicality.
Grade:B+
15.Indianapolis Colts- DB Malik Hooker
The the second rated defensive back in the draft, Hooker lands with indy as a great pick. The Colts get an absolute steal, Malik Hooker roams the field, locates the ball, and intercepts passes. The Colts have made improving their defense a priority this offseason and the pick of Hooker is a great one.
Grade:A
16.Baltimore Ravens- DB Marlon Humphrey Alabama
This addition provides them depth in the secondary. When you have to constantly cover amazing wideouts in the AFC North like Antonio Brown, AJ Green, and now John Ross, adding a corner is pivotal in this division. The addition of a solid defensive back will allow for the Ravens to go back to being one of the top NFL teams.
Grade: B-
17.Washington Redskins- DE Jonathan Allen Alabama
Jonathan Allen was not expected to fall this deep in the draft, but injury concerns in both shoulders led to this slide. However, Allen was the leader of the top ranked Alabama defense. Allen is a physical monster who will make an immediate impact for the Redskins as a rookie, if healthy.
Grade: A
18.Tennessee Titans- DB Adoree Jackson USC
Tennessee shocked everyone by taking WR Corey Davis with the fifth overall pick, they surprise us again with Adoree Jackson out of USC. Jackson was a do it all player at USC playing cornerback, punt and kick returner, and even contributing some offense. He will replace Jason Mccourty in the Titans defense.
Grade: B-
19.Tampa Bay Buccaneers- TE OJ Howard Alabama
OJ Howard is an explosive tight end who can play in line and out wide.Tampa Bay will benefit from his immense talent and ability to serve multiple functions on offense. QB Jameis Winston will enjoy throwing to Howard and Evans next season.Only issue with the addition of Howard is if he has the will to play. If he finds a passion for football and can develop under the Buccaneers' scheme, he has the ability to make a mark in the NFL.
Grade:A-
20.Denver Broncos- OT Garett Bolles
Bolles was spending time behind bars before becoming a stud lineman at Utah. Not only will this pick help keep QB Trevor Siemian upright, but it will also secure the edge for the Denver running game.This man really turned his life around with his athleticism, versatility, and true playmaking ability. While O-linemen are not flashy picks, the offensive line is essential, and provides Denver with some much needed help.
Grade:B
21.Detroit Lions- LB Jarrad Davis UF
With the loss of Deandre Levy, there is much need to fill the gap. Davis is one of the most athletic and versatile players on the field. This man has A+ intangibles and has potential to take over Levy's spot. Davis is a tough player, but there is some concerns regarding his ankle.
Grade: B-
22.Miami Dolphins- DE Charles Harris Missouri
Harris is a dynamic player off the edge who could be the heir to Cameron Wake's throne. Missouri is known for sending tremendous pass rushers to the NFL. Miami has a need for young pass rushers, but passing on Reuben Foster here could be hurtful down the line. However, a quick first step could pay off for the Dolphins.
Grade: B
23.New York Giants- TE Evan Engram Ole Miss
The Giants made a huge move by signing veteran wide receiver Brandon Marshall during free agency, in addition, they're also expected to sign power back Legarrette Blount, leaving tight end as a major hole on the offense. As far as their defense goes they do not need much so tight end is the obvious pick. Engram is a capable pass catcher but must work on his blocking to justify the selection.
Grade:C+
24.Oakland Raiders- CB Gareon Conley OSU
Conley was expected to fall as low as round three, However, Oakland views his on the field talent as high enough to gamble on his off the field conduct. The Raiders will now pair Conley with former Pro Bowlers Sean Smith and Reggie Nelson. If he can play right away, this pick could be a complete steal.
Grade: B
25.Cleveland Browns- DB Jabrill Peppers Michigan
This man can do everything. From the secondary to the pass rush, Peppers was able to flourish in his time at Michigan. The Browns' pick of Jabrill Peppers is a strong effort to fill in all of the holes on the roster. A flashy name, with a flashy play style attracted all teams. While he can play multiple positions, if he finds a position to excel in, and can provide solid production on special teams, he can be very special.
Grade: B-
26.Atlanta Falcons (From Seattle Seahawks)- LB Takkarist McKinley UCLA
Atlanta moved up to select Vic Beasley a wingman, and they got him, and a pretty good one at that. Tak has the ability to eat up space and get after the quarterback. Don't be surprised if he lines up at both outside linebacker and defensive end.
Grade:B+
27.Buffalo Bills- CB Tre'Davious White LSU
After losing CB Stephon Gilmore to division rivals New England Patriots, the Bills prioritized getting a corner across from Ronald Darby. White has great closing speed and can play in both man and zone systems. he'll have to cover the likes of Brandon Cooks, Jarvis Landry, and Eric Decker. Solid pick up by the Bills to solidify their secondary.
Grade: B-
28.Dallas Cowboys- DE Taco Charlton Michigan
As said in our Mock Draft, we know that Taco Charlton is a 6'6 Defensive Powerhouse. The man can do everything, and has the physical tools to make it happen. Jason Garrett knows the shortcoming in his team last year was their defense. The addition of Charleton adds much needed depth to this team, and could make a difference under Rod Marinelli's defensive scheme.
Grade: B+
29.Cleveland Browns (From Green Bay Packers)- TE David Njoku Miami
The Cleveland Browns have a huge need for playmakers, and Njoku fills one of those needs. While he's still a raw talent, Njoku could learn from veteran tight end Gary Barnidge. Njoku will have time to develop, and given that the Browns didn't select a quarterback in the first round, we could see them take Njoku's college teammate, Brad Kaaya.
Grade: B
30.Pittsburgh Steelers- OLB TJ Watt Wisconsin
Like brother like… brother? Watt's impressive numbers with the Badgers allowed scouts to really see what the third Watt Brother is made of. While TJ might not win every single edge in a QB scramble, he can blend well with other linebackers on the Steelers like Ryan Shazier.
Grade: B-
31.San Francisco 49ers (From Seattle Seahawks)-  LB Reuben Foster Alabama
The 49ers traded back into the first round in order to steal Foster before he fell to 32nd or to the second round. Foster was the lead tackler at Alabama and was amazing in coverage. This pick will give the 49ers another dynamic Linebacker to pair with pro bowler Navorro Bowman.
Grade:A+
32.New Orleans Saints- OT Ryan Ramczyk Wisconsin
New Orleans is headed toward the end of the Drew Brees Era and they plan on keeping him upright.  Ramczyk is a very good pass blocker, and an underrated run blocker. Not only will he give Brees time in the pocket, but he'll also open up running lanes for Adrian Peterson and Mark Ingram.
Grade:C  
Website: www.sportsroutes.com
Facebook: www.facebook.com/sportsroutes/
Twitter: www.twitter.com/sportsroutes1/
Instagram: @sportsroutes
SoundCloud: https://soundcloud.com/user-95202233
YouTube: https://www.youtube.com/channel/UCSssR3-8pPrwLj4Hmn-mLNg
For inquiries please contact: [email protected]