5 Stories to Watch During the 2017 NFL Draft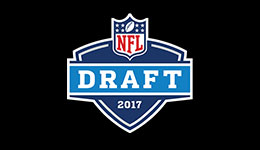 Cleveland trades back into top-10 and selects QB Mitch Trubisky.
If Cleveland does select Texas A&M DE Myles Garrett, it is rumored that they will trade back into the top ten or the top five. The Browns view Trubisky as the savior of their franchise, so not only do they select the best player in the draft, they also select the hometown kid.
Three top-10 defensive prospects fall.
Alabama's Reuben Foster, as well as Ohio State's Malik Hooker and Gareon Conley are all expected to see a possible slip in the draft. Foster, who failed a drug test and was kicked out of the combine, was the leader of the Alabama defense. He has a nose for a football and is shut down on coverage. Hooker, who is recovering from shoulder surgery, has the best ball hawking and playmaking ability in the entire draft. Conley, who was accused of rape, faces the greatest draft day slip as he could see his name called as late as round 3.
QB Patrick Mahomes gets taken before QB Deshaun Watson.
Many teams view Mahomes raw talent as more of a chance to develop a future star. Watson proved all the haters wrong after defeating Alabama in the National Championship. Both players will need some time to develop, but Mahomes offers more mystery than Watson and could pay off more in the long run.
Four RBs could be selected in the first round
After teams saw Ezekiel Elliott tear up the NFL, they all believe top RBs are in demand. Louisiana State's Leonard Fournette, Stanford's Christian Mccaffrey, Florida State's Dalvin Cook, and Tennessee's Alvin Kamara are all players who could be selected in the first round. A position of high demand for elite players who can do it all, these four all offer unique skill sets and can all impact a team immediately.
Defense will dominate the first round, but QBs will dominate the headlines.
This draft is clearly back loaded with top flight defensive prospects. However, four QBs will likely be selected. North Carolina's Mitch Trubisky, Clemson's Deshaun Watson, Texas Tech's Patrick Mahomes, and Notre Dame's Deshone Kizer are all likely to hear their names Thursday night. While a majority of the 32 picks will be defensive players, these four QBs will dominate the friday morning headlines.
Website: www.sportsroutes.com
Facebook: www.facebook.com/sportsroutes/
Twitter: www.twitter.com/sportsroutes1/
Instagram: @sportsroutes
SoundCloud: https://soundcloud.com/user-95202233
YouTube: https://www.youtube.com/channel/UCSssR3-8pPrwLj4Hmn-mLNg
For inquiries please contact: [email protected]