Why Life After Phil Is Looking Bright for the Knicks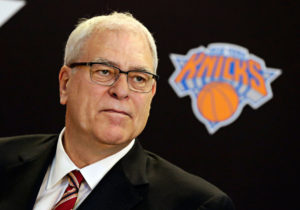 After the long overdue firing of Phil Jackson just over a week ago, the future for the Knicks organization is already looking promising. While still without a president of basketball operations, it appears that owner James Dolan has left the fate of the team in the hands of general manager Steve Mills. You may know Mills as the man who laughed at Carmelo Anthony's 2 a.m. workout video a couple days ago, a rumor which he quickly put to rest. However, I know him as the man who may finally have New York basketball on the path to success once again. The kind of success we saw a couple of years ago when the starting lineup still featured names such as Stoudemire, Gallinari, and Chandler. What we were witnessing then was a genuinely promising team who played well together. In the end however that roster was thrown away for the widely sought after "Big Three" or "Superteam", one of the many mistakes of the Melo Era. I could probably go on for a couple more paragraphs about all the errors committed while Anthony's been in the Big Apple but I'm gonna cut it short here because it'll surely take us away from what we should be focusing on. That is, the Knicks finally appear ready to move on from the their old ways and finally embark on something new. It all starts with something you might've read about already: a youth movement in New York.

You'll be glad to hear that Mills has already been following that philosophy with dedication. After all, it's the eighth day of free agency and the Knicks have yet to dish out a big money contract to a talented yet declining veteran. Something we've seen them do all too often the past few years, *cough* Joakim Noah *cough*. Now I know some fans would try and oust me and call out the four year, $71 million offer sheet to Tim Hardaway Jr., but just give me a chance to explain why this, along with the patient, standoffish approach Mills has taken, is also beneficial to the Knicks. First off, coming off a career year in which Hardaway averaged 14.5 points, 2.3 assists, and 2.8 rebounds in about 28 minutes per game, he is nothing but fully deserving of this contract. Secondly, this offer isn't just a smart roster move, but a massive statement. What Mills is trying to say is that he's going to try and completely write off Jacksons wrong doings, and what better way to do it than to bring back a player that was traded away for seemingly no reason. Sure they may still have terrible contracts that they need to dump (once again Noah's name flashes in my head), but now the Knicks are playing with something they seemed short of over these past few seasons: time.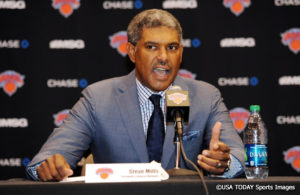 For the first time in a long time, we're seeing a Knicks front office behave in a calm, collected manner. A complete opposite from last years rushed summer spending spree that was just a weak attempt to try and snag the eighth seed. No, what's going on now is something new and in the end something smart for this club that fans should come around to appreciate. Just think about the potential 2018 starting lineup for the Knicks if they continue to commit to the youthful route. At the point you have recent lottery pick Ntilikina, who starts after a year of (hopefully) being groomed under Rajon Rondo. At the two, Hardaway Jr., who made even bigger strides in his first year back in New York and is finally coming into his own. At small forward, big name rookie Michael Porter Jr. is ready to take MSG by storm after the Knicks take him top 3 in the draft. Round it out with talented European big men Porzingis and Hernangomez, who are both set to improve tremendously this year and you have a legitimately promising group of young guys who can compete. Will they win the championship that year? Doubtful. Will they make the playoffs and be trouble for other teams? With the right help off the bench, you bet they will.

Now I know that seems like a dream come true for most fans. Which makes it even crazier to think that it's truly attainable and not all that unrealistic. Sure, the team has a ways to go before they can begin to think about being a contender again, and the beauty once again is that it seems the whole organization is okay with that. A couple more things should happen for this thing to kick into full gear though. First off, they've got to find a way to trade Carmelo Anthony, if they're smart they'll do it for an expiring contract and a first round pick. It's time they suck it up, let go of their pride and realize they may not be able to get much more for him at this point. Second they've got to find a way to get rid of Joakim Noah's terrible contract, and that one goes without a need for explanation. After that's done, I'm sure Mills will make short work of resigning capable bench pieces while also finding even better ones to facilitate the young core I predict will soon be a reality. In addition, they need to commit to letting head coach Jeff Hornacek have full reigns of the offense, which means ditching the triangle. It's an old strategy for a dying game and today's NBA is almost fully moved on. After that's done and Hornaceks got true control of his squad, everything should start coming into place. It's no secret that they've got a long way to go but I'm confident that if the Knicks stay the course with the youth movement and truly trust the process, things will finally begin to work out for them. No one can ever say for certain what the future will hold, but carefully preparing for it today gets you one step closer to a prosperous tomorrow.