Why It's Time To Give William Belichick Esq. The Respect He Deserves (NSFW)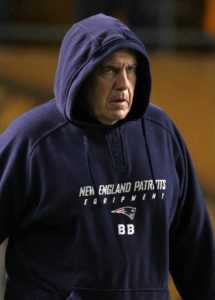 Don't let the title of this piece fool you: I f***ing HATE the New England Patriots. Being a Miami Dolphins fan by nature, it's in my blood to absolutely despise the all powerful evil sith empire which resides in Foxborough, Massachusetts. I was taught from an early age  that Thomas Brady is an Uggs wearing feminine monster that never ages akin to a gay Dracula, Rob Gronkowski should be tested for STDs as often as PEDs and that the  NE-wide receiving corp are only two well groomed white men away from founding their own yacht club / Klan rally ( maybe Chris Hogan can call up a couple of his Lacrosse friends so they can be All-Pros too). The hatred for these players pales in comparison to the fear (and hate) of the Darth Hoodie himself, Bill Belichick. William Stephen Belichick is part J. Edgar Hoover and a part that bully in middle school who went through puberty at 12 while you still played Pokemon and watched Saturday morning cartoons. Belichick runs his organization like that of a Government agency, with so much secrecy and an I don't give a fuck attitude to outsiders which leave people to both hate and fear the power they both may hold. After nearly two decades as a head coach and an appearance in an unprecedented 10 Super Bowls as both a head coach and assistant, it's time to truly appreciate the Hoodie as not only the greatest coach in Pro Football history but possibly the best coach of any American professional sports PERIOD.
At this point, those of you reading this are either 1. Confused 2. Calling me a traitor or 3. Diagnosing me with a variety of mental disorders utilizing colorful language.The criticism is (for the most part, #3 is hurtful :/ ) fair, there have been many coaches in the annals of American sports which clearly have a fight in this debate, ranging from Vince Lombardi, Red Auerbach, Nick Saban ("Fuck you Nick" – Fin's fans) to Don Shula, Phil Jackson, Chuck Noll etc… , but none of them have faced the scrutiny and roster turnover while still maintaining an almost unfathomable rate of success like the Hoodie. Check any list for coaching wins, win percentage and all-time playoff wins and you will see Belichick's name at or near the top of all the lists. This is an important distinction we must make to avoid cruel misfortune and an honest spit in the face many in the NFL have done over the years as they have consistently tied together Belichick's success with that of Tom Brady. Turn on any talk show or sports coverage during a conversation of the Pat's dominance and you will almost always hear commentators link their names together as if they're married (which, for all intents and purposes they are, Brady obviously being the bitch). Often, these commentators will distinguish Brady in his own light, remarking on his singular brilliance as a feel good story that ultimately became one of the best QBs in the game. This credit of "The Best" is almost never given to Belichick exclusively, to the point that the poor man has become underappreciated in the sports community as a coach whose success is largely intertwined with his best player. It's time to acknowledge Belichick's accolades as its own entity, once and for all. Just look at the times the NFL and other teams have publically tried to screw him in order to taint his success.You know that other people not just hate you, but are scared shitless of your legacy when they use a deflated football as a way to disproving over 16 years of sustained success. It is pitiful, and honestly, his retaliation in response to this allegations only fuels his mysterious aura and his skill. In response to both times (#rememberSpygate), he has been accused of gaming the system, Belichick has won even more than the year prior. In fact, had it not been for the dumb looking Manning brother (not you, Cooper, never you) Belichick would have the only 16 games perfect season, an arguably greater feat than that of the 1972 Dolphins. It's gotten to the point that Roger Goodell will use anything possible to make sure Belichick is seen in a negative light. Maybe he planted the evidence for Aaron Hernandez because he was asking for too much money or maybe he rigged the elections for Trump ( this one may actually be possible- Brady wants his BFF in office and Hoodie is pretty much a Bond Villain). The NFL will look for any excuse to hate and that, in and of itself, is a sign of true excellence. Belichick's ability to manipulate his gameplan on a game to game basis with success almost every time is a testament to how he is able to toy with other teams because he knows that no matter what he is given, he know he can win. That's why he is able to pick up scrap heap reclamation projects and consistently turn them into stars and that's why Belichick can trade off stars like baseball cards for picks and feel literally no negative repercussions from his moves. The "Patriot Way" is so successful because of the Brain behind it, constantly looking for ways to improve and innovate where others are too afraid or just not smart enough to try. As you watch the Super Bowl this weekend, take the time to recognize of the greatest sports minds ever instead of hating on a man who just knows he's better than you at what he does.