How Dak Prescott Could Become The Next Great Cowboys Quarterback.
DISCLAIMER: This article was written after Tony Romo was injured during one of the first games of the 2016-2017 NFL Preseason on  September 17th 2016.
From Roger Staubach, to Troy Aikman, then  Tony Romo, and now Dak Prescott? Dak Prescott, former Mississippi State starting quarterback is set to take over a loaded Cowboys offense filled with the likes of Dez Bryant, Jason Witten, and Tyron Smith. With the unfortunate loss of Tony Romo for the season, the Cowboys' chances of claiming the top spot in the NFC East looked slim to none. Forth overall pick Ezekiel Elliot was expected to be the final piece of a top-five offensive trio with Tony Romo, Dez Bryant. While it will not be the same group of triplets, Zeke will still be running behind the best offensive line in pro-football.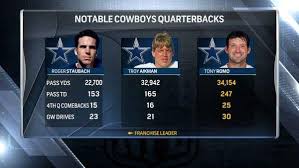 While it was not expected to happen, Dallas will be led by two rookies in the backfield. Elliot, as we know, was a force to be dealt with at Ohio State University and is considered a once-in-a generation tailback due to his impressive knack for blocking. However, the other half of this rookie tandem is forth round draft pick Dak Prescott. At Mississippi State, Prescott was as consistent as he was good. He led Mississippi State to a top-25 finish and was a Heisman hopeful in his Junior season. In Dallas, Dak will rely on Zeke, Jason Witten, Dez Bryant, and Trent Williams, to help Dallas return to the playoffs after a spectacular 12-4 2014-2015 season. Fortunately, what Dallas does obtain in Dak is a dual-threat quarterback, who possess a pocket presence that most rookie Quarterbacks are unable to bring to the league. As the heir apparent to Romo, Dak will be asked to lead Dallas to a Super Bowl, a feat Romo never accomplished. Alongside Zeke and the potential, he contains, Dak has the tools needed in order to become one of the greatest Cowboy Quarterbacks if he can use the offensive line to his advantage and the superstar weapons that surround him effectively.