The Life and Legacy of Aaron Hernandez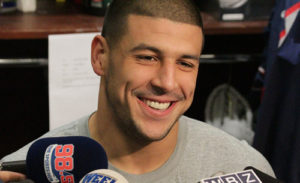 I remember where I was when I had heard the news. As someone who was not yet born during the OJ Simpson debacle, I could never fathom seeing a player who I not only respected, but genuinely enjoyed watching being dragged out of his house in handcuffs facing shocking charges. It was mind numbing to see Aaron Hernandez, a player who just months before his June 2013 arrest, had been an outstanding young talent on a Patriots team that featured what was probably the best tight end duo in NFL history. The months of deliberation that followed unmasked Hernandez as not a rising star in the league, a young man who at 23 years old had a wife and child and was on the cusp of a luxurious contract, but instead as a cold blooded killer whose insatiable urge to kill led him to murder his friend Odin Lloyd in cold blood.
Hernandez was found dead in his cell last week from an apparent suicide via asphyxiation. The details of his suicide are in and of itself gruesome. Hernandez used his bed sheets as a noose to ultimately end his own life. Hernandez had written "John 3:16" on his forehead in blood, a bible verse which reads "For God so loved the world that he gave his only begotten son, that whosoever believeth in him should not perish, but have everlasting life." The most shocking development was made post mortem, where it was discovered that Hernandez had led a double life in which he was a closet bisexual and was having relations with Odin Lloyd. Under this context, many are speculating that Hernandez's fear of being exposed by Lloyd as a bisexual was the motivation for Hernandez's merciless actions.
In the hours following this shocking development, many are left to wonder what we can take away from this tragedy that left two families heartbroken and two grown men dead. This situation is a testament to the unspoken rules of the NFL locker room and the taboo within teams of being a homosexual in a sport where masculinity is not only celebrated but encouraged. It's a troubling dynamic that is often ignored because it is assumed that a homosexual teammate will be accepted into the team as easily as any other player. When Michael Sam, the first openly gay NFL player, was preparing to be drafted, ESPN conducted an anonymous survey to see if players legitimately had an issue with having a gay teammate. As the ESPN report concluded "The results to the survey suggest that while most players (86%) do not claim that sexual orientation matters to them, there is a level of confusing when it comes to having a gay teammate in general. Players were somewhat less likely (76%) to shower with a gay teammate, and even less (54%) thought that a gay player would be comfortable in an NFL locker room. Perhaps the most worrying is that 62% of those surveyed said they had either a teammate or a coach who used gay slurs last season." These statistics are unnerving as they paint an intolerant picture of NFL teams which can translate to culture between teammates where homosexual players are forced to hide their sexuality to prevent ridicule or excommunication from teammates who view their sexual orientation as distracting or uncomfortable.
These issues do not mean that it was this culture that drove Hernandez to commit such a heinous crime, but it does show how the NFL and its players are struggling to adapt to a society where open homosexuality is no longer a decision to be looked down upon but as a viable life choice. It s up to the NFL to show a message of unity and tolerance towards all of its players and increase the communication players have towards these taboo subjects to ensure that radical actions such as Hernandez's are deterred in the future.