Super Bowl LI Recap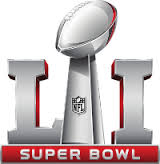 Super Bowl 51 was one of historic proportions featuring the Atlanta Falcons and New England Patriots. First, the Falcons jumped out to a 21-3 lead at half time behind a Robert Alford pick-6, and touchdowns by Devonta Freeman and Austin Hooper. However, the New England offense and defense stepped up in a big way and came back to tie the game and go into the first ever super bowl overtime showdown. After recieving the inital kickoff, the Patriots would proceed to score on a 1-yard Touchdown catch by James White. New England, led by Tom Brady's record breaking 466 passing yards and 2 Tds, has won their 5th Super Bowl this decade. Tom Brady, 5th Super Bowl win and 4th Super Bowl MVP (most all time), has solidified his claim as the greatest football player ever. Bill Belichick, 5th SuperBowl win as a Head Coach (Tied for most all time), has also solidified his claim as the greatest coach in pro football history.
Sports Routes player(s) of the game
CO-Players of the Game
James White and Donta Hightower
While neither player won SuperBowl MVP, which was awarded to Tom Brady, their big plays led the way for New England. Hightower forced the fumble that swung the momentum of the game in favor of the Patriots. James White lead the game with 14 catches (SuperBowl record) for 110 yards and 1 TD, as well as 8 rushes for 29 yards and 2 TDs. Out of Whites three Tds the biggest was the game sealing touchdown catch in overtime.