End of an Era: Where will Kyrie Irving go?
When everyone thought the NBA offseason was cooling off, we were given one of our biggest Woj bombs of all time. Cleveland Cavaliers Super Star PG Kyrie Irving had reportedly requested a trade away from the Cavs last week in hopes of leaving LeBron James shadow and becoming the lead man of an NBA Franchise. While no one is sure if a trade is imminent or not, four possible destinations have been named which includes: the New York Knicks, the San Antonio Spurs, the Minnesota Timberwolves, and the Miami Heat. Irving is one of the best PGs in the entire NBA and has the potential to lead a team to a Championship. Here is what these four possible landing spots could offer for Irving and what it would mean for the Star.
Kyrie Irving's agent, Jeff Wechsler, tells ESPN that they had meeting w/ Cavs on Irving's future with team and wouldn't comment on contents. https://t.co/ix0bQrD5TJ

— Adrian Wojnarowski (@wojespn) July 21, 2017
New York Knicks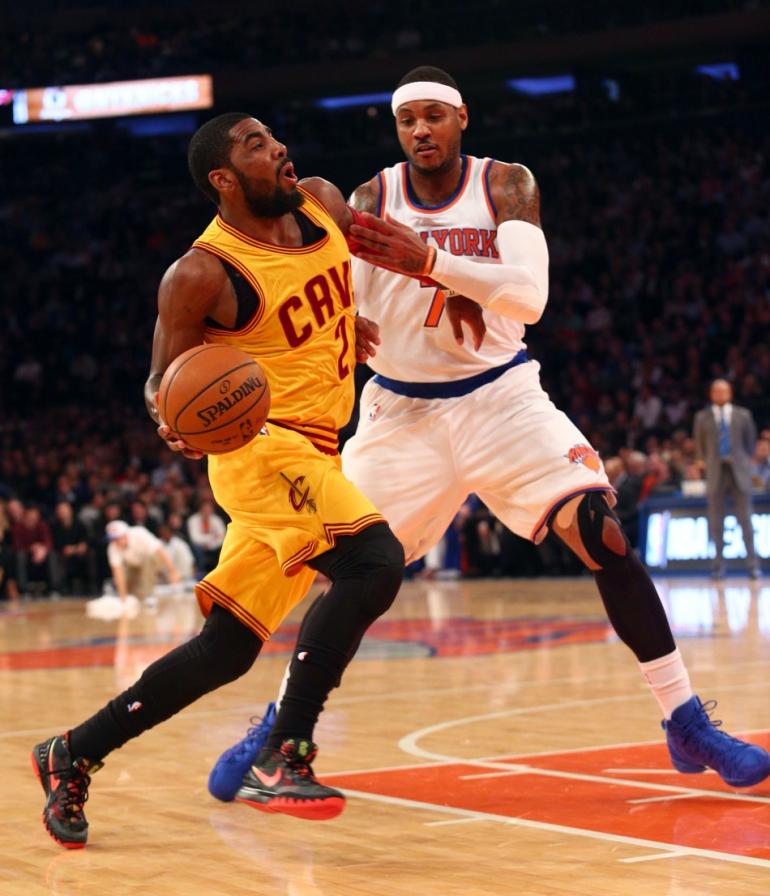 Knicks trade: SF Carmelo Anthony, 2018 1st round pick, 2020 1st round pick
Cavaliers trade: PG Kyrie Irving
New York has made it clear that it will not trade away stud PF Kristaps Porzingis and I doubt that they would give up rising big man Willy Hernangomez, so they'll settle for Melo and a pair of first round picks. If you are wondering why it's quite simple really. Carmelo Anthony is on the final year of his contract after the 2017-2018 season and the two first round picks will allow Cleveland to rebuild if Lebron James leaves the franchise during the 2018 offseason. However, if James decides to stay the Cavs will use these two first round picks in order to acquire players to help James out. For Irving, a move to New York would mean taking over a broken franchise and attempting to lead it to the playoffs alongside two young foreign big men.
San Antonio Spurs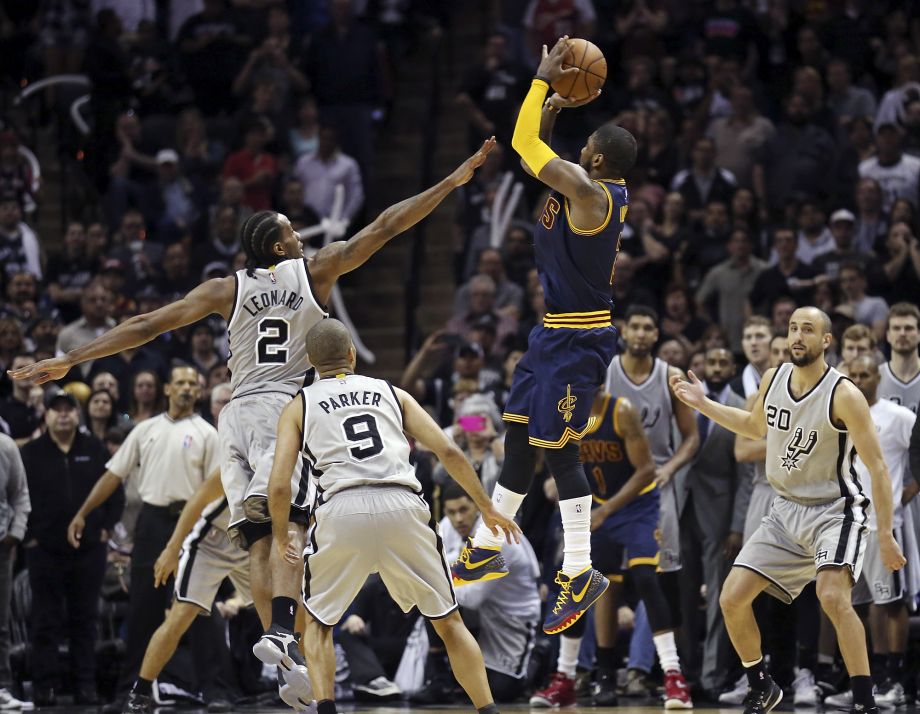 Spurs trade: PF Lamarcus Aldridge,SG Danny Green, 2018 first round pick
Cavaliers trade: PG Kyrie Irving, SG Iman Shumpert
Rarely do we ever see Gregg Popovich make a roster change this major, then again rarely do we see a player like Kyrie Irving become available. The Spurs may be giving up two major players,but Kyrie Irving could help take this franchise over the top in a very loaded Western Conference and Shumpert is a solid 3 and D player for the Spurs. For the Cavs adding a All-Star in Aldridge and a solid starter in Green will allow the team to continue to fighting for a top spot in the East.
Minnesota Timberwolves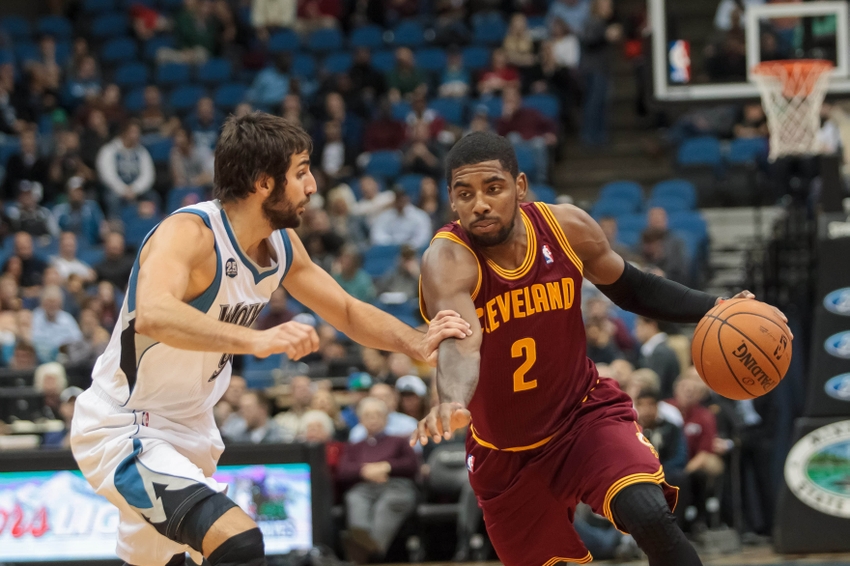 Timberwolves trade: SF Andrew Wiggins, PG Tyus Jones, 2019 1st rounder
Cavaliers trade: PG Kyrie Irving, SF Cedi Osman
Kyrie Irving will not be on the Timberwolves, but they are a preferred destination. Minnesota will be hesitant to trade rising star SF Andrew Wiggins mostly because they recently signed former All-Star PG Jeff Teague and Wiggins will play a huge role for the Wolves this season. However, Teague and Irving both have the ability to play off and on the ball, so they should have no problem coexisting together. For the Cavs adding Wiggins will give them a fall back if Lebron James does decide to leave or another budding Super Star if James decides to stay.  
Miami Heat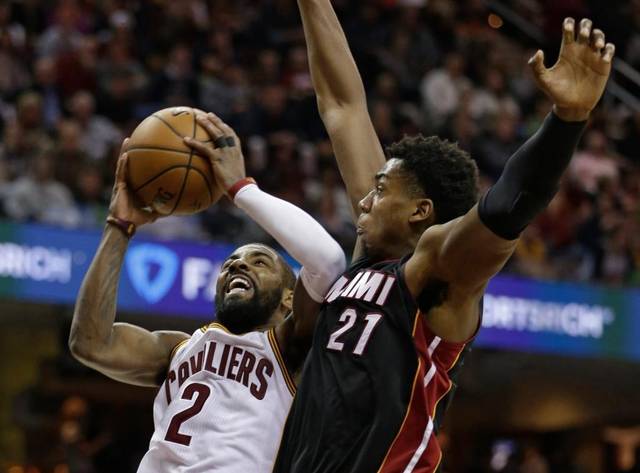 Heat trade: PG Goran Dragic, SG Tyler Johnson, 2018 1st rounder
Cavaliers trade: PG Kyrie Irving, SG Iman Shumpert
A Super Star player leaving Cleveland for Miami? Yeah it sounds very familiar. Irving would enjoy the beaches and sunshine, but would enjoy a very deep and talented cast of underdogs. Would Irving be able to push Miami as far as a title? Possibly, if he is able to click with Whiteside and Waiters then Miami could push Cleveland and Boston to the edge. Giving up Dragic and Johnson won't be easy, but Pat Riley has never feared making big moves like this before. For Cleveland adding Dragic and Johnson will not only help add two key pieces, but adding Johnson will allow Cleveland to either have an additional trade piece or a well needed scorer off the bench.