Patriots Super Bowl Preview
Patriots Offense
With all the hype surrounding the Falcons high flying offense, its time someone give the Patriots offense the respect they deserve. It's hard to imagine a Tom Brady offense being underappreciated, but that seems to be the case. The Patriots, unlike any other team, don't kill opposing teams with one dynamic playmaker, or a devastating running game. No, the Patriots adjust their game plan by the week depending on their opponent. If they need Tom Brady to throw the ball 45 times for 350 yards and four touchdowns they're very capable. If they need LeGarrette Blount to pound it between the tackles 30 times for 120 yards and a pair of scores, they can do that as well. The beauty of the Patriots offense is their ability to adapt depending on their opponent, and that's what makes them so lethal. The most impressive aspect of the Patriots offense this season, is that they didn't miss a step when four time All-Pro Tight End Rob Gronkowski went down with a season ending back injury. Offensive Coordinator Josh McDaniels has built a juggernaut offense that should steamroll through the Falcons young inexperienced defense.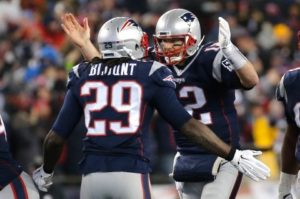 As it stands, it's hard to picture either defense slowing down the opposing offense in the Super Bowl. The best way to limit the opponent's points is to limit the amount of time they have the ball. The Patriots should feature 250 pound running back LeGarrette Blount in the Super Bowl, and take advantage of Atlanta's 29th ranked rushing offense (DVOA). The Patriots best shot to win comes with controlling the time of possession, being efficient in the red zone and not turning the ball over. If the Patriots execute this game plan, they should very well be Super Bowl champions.
Patriots Defense
Throughout the first 4 games of the 2016-2017 season the Patriots went 3-1 without Qb Tom Brady. Their success, however, was attributed to young Quarterbacks Jimmy Garoppolo and Jacoby Brissett, and the brilliance of Head Coach Bill Belichick. While it is true that they all deserve credit for picking up the slack in Brady's absence, the Patriots defense has been playing at the highest level all season. Led by Devin McCourty, Dont'a Hightower and Malcolm Butler, the Patriots boasted the NFL's top scoring defense allowing only 15.5 points per game. The Patriots held both the Texans and the Steelers to under 18 points in their previous playoff games. Behind the genius work of Bill Belichick, the Patriots traded away their star Linebacker Jamie Collins and managed to improve on defense. Regardless of who takes the field for the Patriots defense, they will bring the pressure and force Matt Ryan into a tough situations all game long.