How the Increase In Cap Space Impacts Sports.
How Increasing Cap Space Impacts Sports
Throughout the past few years, we have seen a large increase in the cap space of several leagues such as the two major American sports leagues the National Football League (NFL) and the National Basketball Association (NBA). The increase in cap, in some sense, is good for the players and the players unions in their respective leagues. However, the rise in cap space does not bode well for Owners, Coaches, and Spectators. While players are now able to specialize in one area and be paid three fold of what their counterparts In the presumed "Golden Age of Sports," it does not necessarily mean they are better. Before going into depth on the subject, one must first evaluate the meaning of value as it gets lost in translation due to the cap increase. Playing professional sports value lies in the people who will make your team better for less money. Role players such as Danny Amendola of the New England Patriots and David West of the Golden State Warriors, or the superstars who make everyone else better, Franchise cornerstones such as a Tom Brady of the Patriots and LeBron James of the Cleveland Cavaliers. Now that the foundation of what true value has been built we take a look at how the rise in cap destroys this ideology.
The Good
Like most stories, there are two sides or in this situation two viewpoints. Both players and the respective player unions view the increase in the cap as a blessing. For the players the increase in cap allows players to show their worth and get played. However, this could allow a player to play amazing during the last year of their contract, then hit free agency, get paid, then play mediocre in their new team. While it is difficult to find true talent that will help you from top to bottom, this increased cap will make it difficult for teams to find decent talent for a medium price as players averaging decent number will get paid more than necessary. An example of this is current Memphis Grizzlies Forward Chandler Parsons. After averaging 13.7ppg, 2.8 apg, and 4.7 rpg for the Dallas Mavericks in the 2015-2016 season, Parsons was given a 4 year/ $95 million contract by the Memphis Grizzlies. This proves the statement that decent players will be paid star player money. This side of the players union takes another tailspin, while it also views it as good it is for other reasons all together. The role of the players union in this is to allow players to accumulate the most money after their playing careers. Players such as Terrell Owens, Warren Sapp, and Latrell Sprewell have already filed for bankruptcy, the players unions are attempting to go around this. The player union wants increased cap in order to raise the standard of living for the lower end NBA and NFL players as the minimum salaries have increased as well as the contracts for the Superstars. After the story of Jeremy Lin who lived on his brother's couch in New York while playing for the New York Knicks as he was not being paid enough to be living on his own. As Players and Player unions push for the increased cap, there have been instances in the NBA, 1998-1999 and 2011-2012 seasons, where the players have striked in order to push for this change.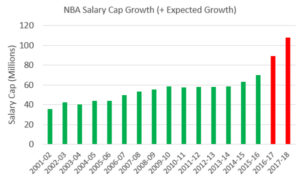 (The NBA yearly salary increase as of the 2015-2016 season, with the expected growth of the 2016-2017 and 2017-2018 seasons. 2016)
The Bad
While the rising of cap does present some upsides to a small group of people, the rise presents downsides to a larger group of people. Fans,owners, and even Coaches are impacted by the inflating cap space. Teams are being placed in situations where they develop young talent in hopes of the player being the future, but then the player leaves after his rookie deal signing a much larger contract elsewhere. This is a situation that could plague the Miami Heat in the 2017-2018 season. After a putrid start to the 2016-2017 season, the Miami Heat have fought back and find themselves with a chance of making the playoffs. However, players such as Dion Waiters, James Johnson, and Wayne Ellington have played well enough to have "played their way out of Miami". In a sense Miami will not be able to pay these players due to teams with more cap being able to pay more. For Coaches this presents an issue because after players gain their first major pay raise there are two possible situations that can occur.The player could pay to his contract and perform like a starting caliber player or high-end bench player, or the player could regrese and underperform. Coaches are forced to change their gameplans yearly as their is no sense of roster stability. This impacts fans the same way by not knowing who will be on the team the following year. Regardless of whether the cap rises or not teams always have issues when it comes to resigning talent at cheap prices.
The Curious Case of the Small Market
Middle ground could be found in this cap rise scenario.As players, for the most part, see only the positives of a cap rise, small markets benefit as well as are handicapped, as stated above, by a rising cap. For teams with smaller markets such as Oklahoma City, Memphis, and Green Bay have the ability to sign bigger name free agents due to a higher cap amount. While a legacy of winning also impacts free agent signings, a cap rise gives smaller market teams an opportunity to compete with larger markets (Los Angeles, New York, etc) to sign big name free agents.The MLB, Major League Baseball, does not pertain such rules. The Yankees and Red Sox's continually sign the biggest name free agents without penalty and are considered to be "buying the pennant". In baseball the smaller markets rely on their farm systems and hope they will be able to resign that "home grown talent" before they reach free agency and are able to be paid much more by these Larger Markets.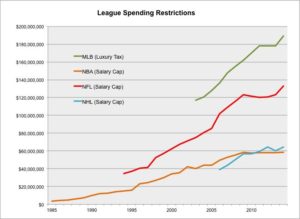 (Due to more financial flexibility the MLB bolsters a much higher League Spending Restriction, which allows them to pay their players much more. 2014)
How does this change the landscape of sports?
Sports, like politics, are always changing. The cap rise may result in young athletes playing baseball and soccer over basketball and football since it pays more. In a recent interview former NFL Tight end Jordan Cameron stated that , " Most players don't love football. Who loves getting hit by a 250-lb in -2°F weather?" This comment should scare teams because it leads you to believe that more players are playing for the money than anything. Teams want guys who come to win, and if these guys only care about making money then teams could face a never ending cycle of losing while paying players major amounts of money. As shown in the graph below spending big does NOT translate into winning.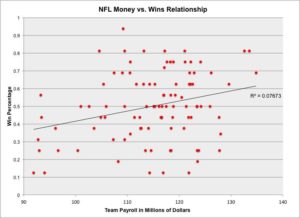 ( While less money is worse than paying more money, teams in the middle of the payroll seem to bolster a higher win percentage than teams at the beginning and end of the payroll.2014)
Therefore, while the rising cap presents upsides for the athletes themselves and helps smaller markets, it handicaps the fans, teams, and owners, as it is apparent that winning free agency does not meaning winning a title.