Final 2019 NFL First Round Mock Draft
The 2019 NFL Draft commences tonight, with tons of great players as well as people earning their chance to showcase their talents on football's biggest stage. This has been one of the most entertaining pre-draft processes ever, with new rumors being thrown around seemingly every minute. It sure will be a fun draft to watch, and with almost no certainty on any of this year's picks, I thought I'd take a jab at what I think will go down tonight (trades not projected). Here we go!

---
ARI – Kyler Murray, QB, Oklahoma
There's no doubt this is a deep class for interior defensive linemen, pass rushers, offensive linemen, wide receivers, tight ends and running backs, but there seems to be a lack of promising quarterbacks. However, all signs point to the Cardinals taking Kyler Murray, this year's Heisman Trophy Winner, at #1. A trade down is also rumored to be plausible, as well as Quinnen Williams or Nick Bosa going with the top selection as well. If Murray is indeed the pick, it will be very interesting to see what happens with Josh Rosen, Arizona's first round pick at quarterback last year.
---
2. SF – Nick Bosa, EDGE, Ohio State
Nick Bosa is my #1 overall prospect this year, and the Niners need help on the outside of their pass rush. Bosa would fit perfectly and cement a 49ers rushing attack that has been invested into heavily over the last few drafts. If Bosa is taken #1, I expect San Francisco to grab Josh Allen.

---
3. NYJ – Ed Oliver, IDL, Houston
The Jets have so many rumors floating around about what they will do tonight – including trading down. But the recent trendy pick for the new-look Jets seems to be Ed Oliver. New York needs a defensive tackle, and Oliver is my favorite in this class. Quinnen Williams and Josh Allen are also in play here.

---
4. OAK – Montez Sweat, EDGE, Mississippi State
Over the last couple of months, Montez Sweat has risen up draft boards, then fallen, and now is rising again, all due to concerns with some heart issues, that now seem to have been misdiagnosed, according to NFL.com's Ian Rapoport. Head coach Jon Gruden loves athleticism when it comes to his trench guys (see Kolton Miller, 2018) and if you haven't heard, Sweat is an athletic freak. This is not a popular pick but one I could easily see Gruden and Mike Mayock going with if the Raiders' doctors think Sweat is okay. If Kyler Murray falls to #4, expect the Raiders to take him. Quinnen Williams is also a rumored pick for Oakland.

---
5. TB – Quinnen Williams, IDL, Alabama
The popular Tampa Bay pick is linebacker Devin White, but if Williams falls this far, the Buccaneers have to go with the best player available. The Alabama defensive lineman was an absolute monster last season, and is one of the safest picks in this class. Tampa Bay has been rumored to be shopping longtime defensive tackle Gerald McCoy, due to his cap number, and grabbing a guy like Williams makes his contract and play expendable. It'd be a great long term move for Tampa Bay if Williams is indeed on the board.

---
6. NYG – Daniel Jones, QB, Duke
Yikes. There's been a lot of noise surrounding a Giants-Jones connection over the past week, and it's no secret New York needs a QB, and fast. While I think the Giants should absolutely take a quarterback at #6, I do not believe it should be Jones. But this is an accuracy-based mock, and I'm led to indulge the idea that this is Dave Gettleman's guy. Look out for Dwayne Haskins, Devin White, or an offensive tackle to go here as well.

---
7. JAX – Jawaan Taylor, OT, Florida
After investing in quarterback Nick Foles in free agency, Jacksonville needs to ensure they protect him as much as possible. Grabbing a tackle like Jawaan Taylor gives them more insurance on the offensive line, and he's one of my favorite prospects in this class. Taylor has enormous upside on the right end of the line, and can transition over to the left if Cam Robinson's recovery does not pan out as expected.

---
8. DET – Josh Allen, EDGE, Kentucky
If Josh Allen does indeed fall to #8, and Detroit doesn't trade down – Bob Quinn & Co. better sprint to the table with his name on their draft card. He's the perfect fit for Matt Patricia's defense and is one of the better prospects in this class. This would be the best possible pick for the Lions at this spot.

---
9. BUF – TJ Hockenson, TE, Iowa
The Bills have done well building around incoming-sophomore quarterback Josh Allen, but the weapons still lack flair a bit. After releasing veteran tight end Charles Clay, a savvy run blocker and pass catcher, Hockenson is the perfect pick for Buffalo at #9 if he's available. He's a spectacular run blocker as well as receiver, and would give Allen an elite safety blanket out of the slot.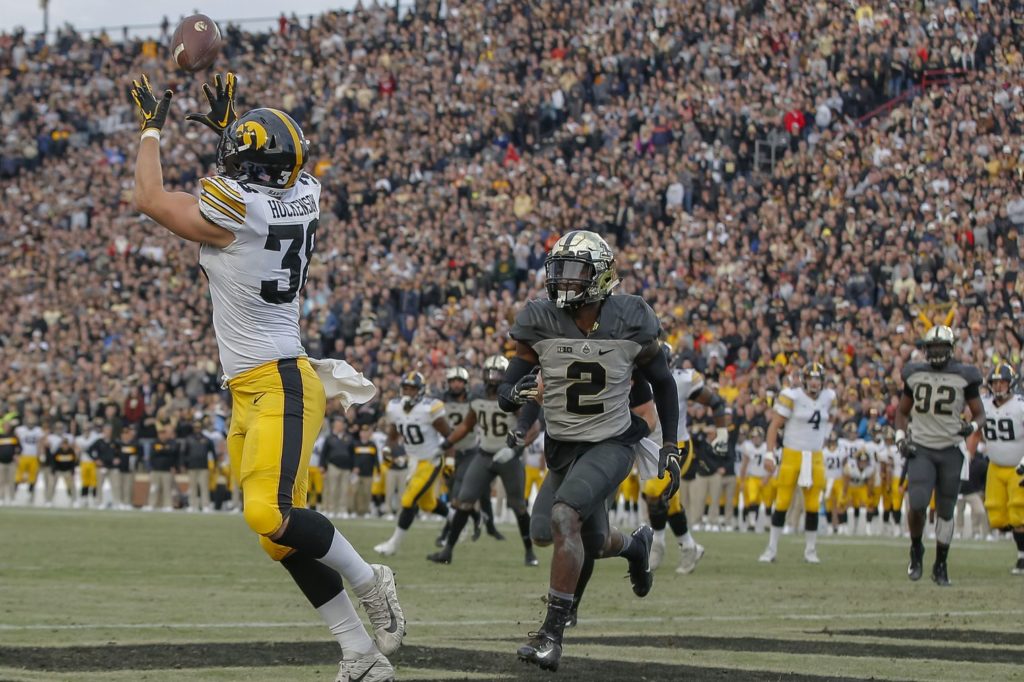 ---
10. DEN – Drew Lock, QB, Missouri
All the noise is that Denver loves Drew Lock. John Elway has expressed his confidence in recent acquisition Joe Flacco to lead the charge this season, but he won't last long. Taking a prospect such as Lock allows Flacco to start while the Missouri quarterback develops under him before eventually taking over the reigns to the Broncos' offense.

---
11. CIN – Andre Dillard, OT, Washington State
The Bengals still need more help on the offensive line even after drafting a center last season. Dillard is a solid prospect and has risen up draft boards recently. He, along with one of the top linebackers in this class, are the most popular picks among other mock drafts. I think Dillard is the guy here for Cincinnati.

---
12. GB – Brian Burns, EDGE, Florida State
After letting Nick Perry walk, the Packers need an edge rusher. With the quarterback frenzy in the top 10, Green Bay lands a stud in Burns after he slips a little further than expected. The Florida State pass rusher has an elite set of tools, and can bring the spark to the Packers' defense that they have needed for quite some time.

---
13. MIA – Devin White, ILB, LSU
Miami could go quarterback here, especially with Dwayne Haskins on the board, but they've made it known they'd rather go with a quarterback from next year's class. Devin White, the consensus top linebacker of this class, slips here, and the Dolphins should take him without much hesitation.

---
14. ATL – Christian Wilkins, IDL, Clemson
Christian Wilkins is a dominant pass rusher from the inside, thus filling one of Atlanta's biggest weaknesses. He showcased his skills on Clemson's defensive line the last two seasons and would be an ideal fit with the Falcons. There's been rumors Atlanta might trade up for Ed Oliver, but without that occurring in this mock, the Falcons get the next best thing in Wilkins.

---
15. WAS – Dwayne Haskins, QB, Ohio State
Perhaps the most obvious connection in this draft is Haskins and Washington. The Redskins have been rumored to be willing to trade up all the way to #3 to grab him, but he falls here right into their laps. Haskins is my favorite quarterback in this class and would be able to start day one for Washington. If he's available without them having to trade up – it's a done deal.

---
16. CAR – D.K. Metcalf, WR, Ole Miss
The Panthers let Devin Funchess walk, a big-bodied, tall receiving threat for Cam Newton since he was drafted to Carolina. D.K. Metcalf is Funchess-esque, but significantly faster and stronger. After spending their first round selection on Maryland WR D.J. Moore last season, they continue to invest in the receiving corps this year with Metcalf.

---
17. NYG (from CLE) – Marquise Brown, WR, Oklahoma
After taking a quarterback at #6, the Giants get him a weapon here at #17. Unfortunately, there's no Odell Beckham any longer to help Jones, so the Giants take the speedy route runner in Brown in the second half of the first round.

---
18. MIN – Jonah Williams, OT, Alabama
With Dillard being selected over Jonah Williams, the Vikings get a potential steal here with the Alabama prospect. Minnesota was not able to protect Kirk Cousins last season, and investing in the offensive line should be their highest priority. Williams is a phenomenal fit with the Vikings and provides Cousins with immediate protection on whatever side of the offensive line he takes over.

---
19. TEN – Noah Fant, TE, Iowa
Tennessee gets their next Delanie Walker in Noah Fant, the second Iowa tight end to be drafted in the first round. Fant is very athletic and an amazing receiver – think healthy Jordan Reed. He's a versatile weapon, which the offense needs more of to support quarterback Marcus Mariota as best as they can.

---
20. PIT – Devin Bush, ILB, Michigan
Pittsburgh gets their guy in the middle of the defense with Devin Bush, a speedy sideline-to-sideline linebacker. He's phenomenal on the off-ball, something Pittsburgh had tremendous success with during Ryan Shazier's tenure before he was injured two seasons ago. In order to help get this defense back on the right track, the Steelers need to invest here on defense – and Bush is the best guy available.

---
21. SEA – Clelin Ferrell, EDGE, Clemson
After trading away Frank Clark to Kansas City, the Seahawks have a glaring need in their pass rush. Ferrell is the best available guy here, and Seattle should take him without blinking if he is indeed available. Along with Christian Wilkins and Dexter Lawrence, Ferrell dominated opponents on the defensive line during his time at Clemson.

---
22. BAL – Hakeem Butler, WR, Iowa State
Hakeem Butler is quite the athletic freak. Baltimore needs to ensure they get Lamar Jackson as many weapons as possible for 2019. Butler is my favorite receiver in this draft, and can be the featured #1 guy on day one. The Ravens could land a serious steal here at the 22nd overall pick.

---
23. HOU – Cody Ford, OG/OT, Oklahoma
Houston has struggled to provide protection in the trenches for Deshaun Watson, and that should be their priority in this draft. Ford was very solid for Oklahoma throughout his tenure, and would be a great plug-and-play for the Texans from week one.

---
24. OAK (from CHI) – Greedy Williams, CB, LSU
After investing in their rushing attack at #4, Oakland complements their pick with pass defense in Greedy Williams. The LSU defensive back has a lot to work on to become a premier player at his position, but the athleticism is there.

---
25. PHI – Dalton Risner, OT, Kansas State
Dalton Risner is valued highly due to his versatility and ability to play every position on the offensive line. But with Jason Peters' future in doubt due to age and injury, the Eagles need to find his eventual replacement as soon as possible. Risner would benefit from developing behind Peters for a season and taking over the next, or playing on the interior this season before moving on over to the left side next year.

---
26. IND – Byron Murphy, CB, Washington
Indianapolis has invested quite a lot of resources into their defense over the last two offseasons, and it seems to be panning out quite well. Pass defense is still a weakness, however, and the Colts find themselves Murphy at #27 to fix that right away. Murphy is my favorite DB in this class and his addition to the secondary would really help the Colts' defense elevate into top-tier.

---
27. OAK (from DAL) – N'Keal Harry, WR, Arizona State
The Raiders traded away Amari Cooper to Dallas last season, and with the first round pick they received as compensation, they draft a receiver in N'Keal Harry. Harry, and their two other offseason WR acquisitions in Antonio Brown and Tyrell Williams give Oakland quite a fantastic receiving corps to help get quarterback Derek Carr back on his feet.

---
28. LAC – Deionte Thompson, S, Alabama
After taking safety Derwin James at #17 overall last season, Los Angeles continues to invest in their secondary – one of the best in the league already. Thompson gives them more help and elevates them into arguably the very best secondary on paper since the Legion of Boom. If this isn't the case, expect them to look at various interior defensive linemen and offensive tackles, depending on the talent available.

---
29. SEA (from KC) – Garrett Bradbury, C, N.C. State
Along with pass rushing, Seattle needs to address their offensive line this draft. Bradbury is my favorite center in this class and boosts the Seahawks already-top end running game for the foreseeable future. This would be one of the best selections in the entire first round if it happens.

---
30. GB (from NO) – Jerry Tillery, IDL, Notre Dame
After going pass rusher at #12 with Brian Burns, the Packers continue building their front seven with Tillery, a favorite among analysts to go in this range. Green Bay needs to field a defense good enough to support their offense led by Aaron Rodgers if they want to get back into playoff contention, and Burns and Tillery help to expedite that process.

---
31. LAR – Irv Smith Jr., TE
The Rams offense was an absolute juggernaut last season, and adding a physical tight end like Irv Smith Jr. gives them even more flair on that side of the ball. Assuming Todd Gurley gets back to full health, Los Angeles appears headed back to the Super Bowl if they have a solid draft class this go around. Smith Jr. is a fine pick to help that case. (Bonus – he's the last of the top three tight end group, right before New England!)

---
32. NE – A.J. Brown, WR, Ole Miss
After Rob Gronkowski's retirement, the departure of Chris Hogan, and the uncertainty surrounding Josh Gordon's future, the Patriots take a receiver at the end of round one. Brown has been solid for Ole Miss throughout his college career and brings a lot to the table that Bill Belichick will like. Taking a WR in the first round helps prolong Tom Brady's career just a bit.

---