Boogie on Warriors : How Golden State has the Most Unique Team in NBA History.
In the NBA or most sports as a matter a fact, there are only three times we see a starting lineup of players who are or have been All-Star players in their careers. The first situation and the most obvious one is an All-Star game, where the best players in the league are voted in to play against each other. The second situation is when older All-Stars team up together in order to win, an example of this is the 2000-2001 Lakers, a team that featured Kobe Bryant, Shaquille O'Neal, Gary Payton, and Karl Malone. The third situation is during an international tournament, such as the creation of the Dream Team of 1982. In 2018 we have one rare case, a case that we have not seen since Bill Russell's Celtics teams of the late 50's and 60's, the defending NBA Champion Golden State Warriors, who already field a team of 4 All-Stars, may have just changed the whole dynamic on the NBA.
September 22, 2017; Oakland, CA, USA; Golden State Warriors guard Klay Thompson (11), forward Draymond Green (23), forward Kevin Durant (35), and guard Stephen Curry (30) during media day at Rakuten Performance Center. Mandatory Credit: Kyle Terada-USA TODAY Sports 
Golden State Warriors already have a starting line up of Steph Curry, Klay Thompson, Draymond Green, and Kevin Durant. Stephen Curry was drafted out of Davidson in 2009 as the 7th overall pick, he has since been named the MVP of the NBA twice, a five-time all-star, and a three-time NBA champion. Klay Thompson was the 11th overall pick in 2011 out of Washington State, being named a four-time All-Star and a three-time NBA champ. Draymond Green, a stout defender, and a solid well-rounded player was drafted in the 2nd round of the 2012 draft and has been named NBA defensive player of the year once and a three-time All-Star and three-time NBA champ. Kevin Durant was added in free agency from the Oklahoma City Thunder after the Warriors lost in seven games against LeBron James and the Cleveland Cavaliers in 2016. Many people were against the move for Kevin Durant, and while the league has criticised the move the result has been two NBA championships in two years. As many think that there is no way for this team to improve their already deep team. However, their name has been involved in many moves such as trading for Superstar Anthony Davis, but nothing ever become of it and fans everywhere assumed they would sign a solid bench player once again. And then began the 2018 NBA free agency.
July 1st started off with a bang as players such as LeBron James and DeAndre Jordan signed massive new deals to new teams. But there was one player whose name was not thrown out as much to this point, and that player was Anthony Davis' teammate Demarcus Cousins. Cousins is considered by many as the top center in basketball and was sidelined in February with a torn Achilles. Many thought he would resign with New Orleans or sign to play with LeBron in L.A., but instead, he chose what is possibly the best situation for him and signed with the reigning champs from Golden State.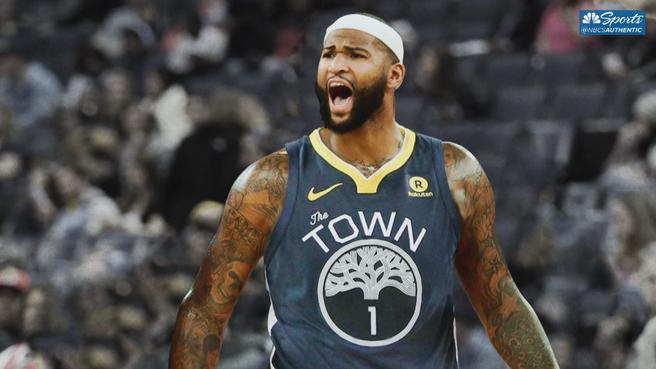 Demacrus Cousins in a Golden State Warriors Jersey. Photo Via: NBC Sports.
The timeline for a torn Achilles is 12 months, meaning Cousins would not be able to return until after the All-Star break and this scared off many teams. Aside from his normal antics on the court where he is one of the most ejected players in the league. Cousins will now play with a team that will not need him to play immediatly and will give him the best chance to win a title. You can consider this a chance for Boogie to get revenge against the rest of the league for not offering him a contract or a good situation.
This signing now presents the Warriors with a unique sitatuion, 5 potential Hall-of-Famers all in their primes and all being coached by a top 5 coach in the NBA. The last time this was seen was during Bill Russell's Celtics which feautred 7 future Hall-of-Famers and one of the greatest coachs in NBA history in Red Auerbach. While many fans bash this Warriors team, it includes 4 players who can average 20+ points a game and another player who focuses on the overall stat sheet. If Steve Kerr and this coaching staff can come up with a game plan to maximize these players this could be the greatest team to ever step foot on an NBA court. While I know many fans will not be tuning in on a nightly basis, as a fan of the beauty behind the game, this could become the most beautful style of basketball ever played.