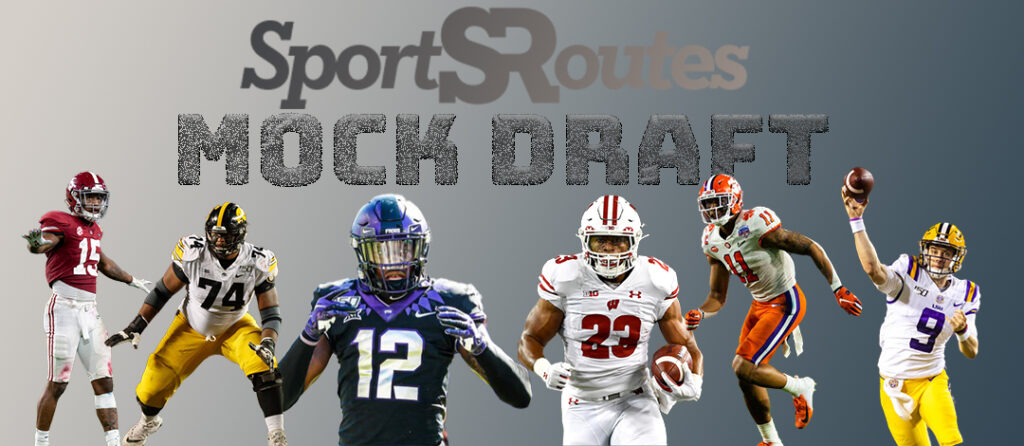 The 2020 NFL Draft is loaded with future Super Stars and franchise players. Thursday, is a day that could alter the course for multiple franchises around the league.
This mock features two prominent players falling, some shocking landing spots for some of the top names in the draft, and fills some of the biggest holes for NFL teams.
---
1. Cincinnati Bengals: Joe Burrow, QB, LSU
Burrow at number one has been locked in since LSU beat Alabama and he's done everything right. Burrow could change the tides in Cincy with his high football IQ, strong arm, and accuracy. Zac Taylor and co. are looking at their possible started for the next 10+ years.
---
2. Washington Redskins: Chase Young, EDGE, Ohio State
Many analyst have dubbed Young as a better EDGE prospect than the Bosa brothers, Myles Garrett, and Jadeveon Clowney, all of whom were top-3 picks in their drafts. Young posses elite pass rushing abilities by blending power, speed, and a quick first step. Pairing Young with Ryan Kerrigan, Jonathan Allen, and Matt Ioannidis could give the Redskins a top-5 front seven.
---
3. Detroit Lions: Jeff Okudah, CB, Ohio State
After moving on from Pro Bowl CB Darius Slay the Lions have set themselves up to pick the best corner prospect in the draft. Okudah has the ability to shadow the opposing teams top wideout and fill in for the departed Slay. However, expect Detroit to move back.
---
4. New York Giants: Jedrick Wills Jr, OT, Alabama
Similar to Detroit, the Giants could be looking at moving back. Spurning do-it-all defender Isaiah Simmons could show how invested the Giants are in former top-5 pick QB Daniel Jones. Wills may not be the best day-1 starter at OT, that goes to Georgia's Andrew Thomas, but he offers a higher ceiling and can still be a high level starter his rookie season.
---
5. Miami Dolphins: Isaiah Simmons, LB, Clemson
No QB at five for Miami and they go to compliment Brian Flores' defense even further. Simmons is the perfect defender for Flores' defense, who is known to value versatility. Simmons is the football version of a Queen in chess, there is nothing he can't do.
---
6. Los Angeles Chargers: Andrew Thomas, OT, Georgia
According to GM Tom Telesco, the Chargers believe they can win with QB Tyrod Taylor at the helm. If that's more than just a smoke screen than Thomas could be the answer here. He is the most day-1 ready rookie OT and will give the Chargers a much needed boost after trading away OT Russell Okung during the offseason.
---
7. Carolina Panthers: Derrick Brown, IDL, Auburn
The Panthers are in rebuild mode and while Brown might not be the "sexy" pick, he is an elite gap stuffer against the run. Brown won't get double digit sacks, but he will command blockers and open lanes for players such as Kawann Short and Brian Burns.
---
8. Arizona Cardinals: Tristian Wrifs, OT, Iowa
Wideout was the analyst favorite pick for the Cardinals, but that was before they fleeced the Texans for All-Pro wideout DeAndre Hopkins. Wrifs is a project, but his athleticism and high ceiling is reason enough to take him at 8. The Cardinals still have multiple holes on defense to fill before taking that next step, but they first must protect Murray.
---
9. Jacksonville Jaguars: C.J. Henderson, CB, Florida
Henderson has been a name that has been reportedly been climing up draft boards as of late and this is a hole the Jags need filled. A team who two years ago was a game away from the Super Bowl is now stuck in rebuild mode once again. After trading away Jalen Ramsey to the Rams and A.J. Bouye to the Broncos, this becomes a major hole. Henderson has the potential to become a good corner in this league, but nine may be too high.
---
10. Cleveland Browns: Mekhi Becton, OT, Louisville
I do not see the Browns staying in this spot, but if they do not trade down Becton is the pick. Becton is the top remaining o-lineman and the Browns must protect Baker Mayfield at all cost.
---
11. New York Jets: CeeDee Lamb, WR, Oklahoma
Losing Robby Anderson in free agency and failing to sign a wideout in free agency means that the Jets are in the market. Lamb is the best wideout in this draft because he does everything at a high level and has a bigger frame than both Jerry Jeudy and Henry Ruggs III. Lamb would give Sam Darnold the clear cut top wideout the Jets have failed to give him.
---
12. Los Vegas Raiders: Tua Tagovailoa, QB, Alabama
The Tagovailoa slide stops at 12 and it could be what's best for the Hawaii native. Raiders head coach Jon Gruden stated that the team would stick with Derrick Carr, but never said for how long. Tagovailoa gives the Raiders a solid backup and a possible answer to their future at the QB position.
---
13. San Francisco 49ers (via Indianapolis Colts): Jerry Jeudy, WR, Alabama
The argument could be made that Jeudy is the top wideout in this draft class, but there's no arguing that he is already an elite route runner. The 49ers offense needs a wide receiver to replace Emmanuel Sanders, and Jeudy will not need to be thrown right into the fire with former 2nd round pick Deebo Samuels and TE George Kittle leading the pack.
---
14. Tampa Bay Buccaneers: Javon Kinlaw, IDL, South Carolina
Tampa Bay is looking to trade up and take one of the top four offensive lineman in the draft, but Kinlaw is a good consolation prize. After bringing back DT Ndamukong Suh for a 1-year deal, the Bucs could look to have Kinlaw be the future at DT and pair him with former first round pick Vita Vea.
---
15. Denver Broncos: Henry Ruggs III, WR, Alabama
Speed kills and Ruggs is the best speedster in the draft, but he's much more than that. Landing in Denver is a win-win for Ruggs as he won't have to be the the number one wide receiver with Courtland Sutton and he gets a strong armed QB in Drew Lock.
---
16. Atlanta Falcons: Jeff Gladney, CB, TCU
Gladney is viewed by some as a better prospect than C.J. Henderson and the Falcons, who are expected to move up, are in dire need of a new corner. The Falcons have sought out corner help since former Falcon Desmond Trufant got hurt in 2018 and Gladney could be the answer in a division featuring DJ Moore, Michael Thomas, Mike Evans, Emmanuel Sanders, and Chris Godwin.
---
17. Dallas Cowboys: Xavier McKinney, S, Alabama
Dallas has a hole to fill a safety and McKinney would be the answer. Mckinney is the top safety in this draft, and even if Dallas is able to make a move for Jets safety Jamal Adams, this is a smart pick. McKinney can play all over the field and is an instant upgrade.
---
18. Miami Dolphins (via Pittsburgh Steelers): Justin Herbert, QB, Oregon
The reports say Miami likes Herbert more than Tagovailoa at pick number five, but I believe Miami can wait and get him later in the draft. Barring a team trading up Miami could land Herbert at a resonable spot. Herbert is talented and a year behind Ryan Fitzpatrick could help improve the strong armed QB.
---
19. Las Vegas Raiders (via Chicago Bears): K'Lavon Chaisson, EDGE, LSU
The Raiders were once again towards the bottom of the league in sacks, with 32 sacks, even after using last years 4th overall pick on EDGE Clelin Ferrell. Chaisson can add a disruptive force to the Raiders defensive front, and has proven that he can cover and play on special teams.
---
20. Jacksonville Jaguars (via Los Angeles Rams): Kenneth Murray, LB, Oklahoma
Murray is a versatile do-it-all linebacker who is a perfect fit next to Jags LB Myles Jack. Having Murray, Jack, Henderson, and Josh Allen is a good way to start a rebuild by building up the defense.
---
21. Philadelphia Eagles: Justin Jefferson, WR, LSU
Jefferson had a sensational end to his college career and blew scouts away after a stunning combine performance leading to a first round selection. Philly is in dire need of reciver help after ending the season with Greg Ward and practice squad players. Now with Nelson Agholor gone and Alshon Jeffery possibly on his way out, Jefferson can become Carson Wentz's top target and can seemingly handle the workload of a top wideout of a playoff team.
---
22. Minnesota Vikings (via Buffalo Bills): Denzel Mims, WR, Baylor
The pick acquired after trading away WR Stefon Diggs is used on a wideout, but not a guy with a similar skill set. Mims is a bigger target at 6'3″, is a great blocker from the wideout position, and will be the perfect compliment to Adam Thielen.
---
23. New England Patriots: Patrick Queen, LB, LSU
The loss of Tom Brady overshadowed the major loses along the defensive side of the ball. Losing both Jamie Collins and Kyle Van Noy could prove problematic for the Pats. Ja'Whaun Bentely can occupy one of those spots and Queen can take over the other. Queen is a versatile linebacker who proved that during the College Football Playoffs.
---
24. New Orleans Saints: Jordan Love, QB, Utah State
Drew Brees needs an heir and Tysom Hill isn't getting younger. Enter Jordan Love, a project of a QB who has been compared to Kansas City Super Bowl MVP QB Patrick Mahomes. Having Love develop under Brees, and having him on a rookie deal, could allow him to grow and sign Alvin Kamara and the rest of the talented young Saints to long term deals while keeping the championship window post Brees.
---
25. Minnesota Vikings: Kristian Fulton, CB, LSU
Yes, another first round corner for the Vikings. Losing Xavier Rhodes, Trae Waynes, and Mackenzie Alexander means the Vikings have a gapping hole at corner. Fulton had a solid season and is the best available corner on the board.
---
26. Miami Dolphins (via Houston Texans): Josh Jones, OT, Houston
Drafting Isaiah Simmons at 5 and Justin Herbert at 18 is already an A draft for the Dolphins, adding a Herbert's LT of the future only adds to the draft grade. Jones isn't as highly rated as the top-four OT's taken at the top of the draft, but as a late first rounder he is a solid addition that can possibly take over for Larmey Tunsil.
---
27: Seattle Seahawks: Yetur Gross-Matos, EDGE, Penn State
The Seahawks need a new EDGE rusher with the team not resigning Jadeveon Clowney. Gross-Matos is the top available EDGE on the board and fits the mantra of Seahawks pass rushers.
---
28. Baltimore Ravens: Cesar Ruiz, IOL, Michigan
Losing Marshall Yanda and finding his replacement should be of the upmost priority for the Ravens. Ruiz is the top interior offensive lineman in the draft and is the perfect player to attempt to fill in for Yanda. Protecting Lamar Jackson is important, finding the best players to do it is even more important. Ruiz is an easy choice here.
---
29. Tennessee Titans: D'Andre Swift, RB, Georgia
Running back is not a need for the Titans, but finding the perfect compliment for Derrick Henry and security blanket for Ryan Tannehill should be. Swift is an elite pass catching back and could give the Titans even more fire power on an offense that is looking to take that next step.
---
30. Green Bay Packers: Laviska Shenault, WR, Colorado
Signing Devin Funchess in free agency is a start, but finding a true compliment to Devante Adams is priority. Shenault has drawn comparisons to Deebo Samuel, a versatile WR who can make plays every time he touches the ball, pairing him with Adams and Funchess could give Aaron Rodgers a widereciver trio he hasn't had since 2011.
---
31. San Francisco 49ers: Jaylon Johnson, CB, Utah
Richard Sherman isn't getting any younger and the rest of the 49ers secondary failed to show flashes of great talent. Enter Johnson who has shown flashes of being elite corner with good recognition and press techniques.
---
32. Kansas City Chiefs: Jonathan Taylor, RB, Wisconsin
Another curve ball from the second running back off the board. The Chiefs may have some more pressing needs on the defensive side of the ball, but Taylor could give Andy Reid and Mahomes the type of running back Reid had in LeSean McCoy in Philly. Taylor could become a top-10 running back for the Chiefs in his first season.